Event United States of America Structural Change
Event Review: Cleantech Cluster Opportunities in Eastern Germany
Innovative Water Technologies for Smart Cities
Event: Jun 28, 2018
Location: Los Angeles, United States of America
On June 28, 2018, innovative water technology solutions for smart cities were discussed during a GTAI lunch briefing at the Los Angeles Athletic Club.
Pioneering environmental policy and a supportive legal framework have helped establish Germany as one of the leading markets for sustainable water technologies. With a world market share of 11 percent and an expected growth of almost 12 percent annually until 2025, Germany offers attractive opportunities for innovative water technologies. Climate change, urbanization, and digitalization are only some of the drivers creating demand for new solutions that guarantee higher efficiency and water quality standards.
The water industry in the new federal states of Germany has undergone a massive modernization program. As a result, many Eastern German companies and research institutions have gained considerable expertise, in upgrading drinking water supply and wastewater treatment plants. Knowledge transfer is highly important, and facilitated by a number of initiatives. Universities like the Technische Universität (TU) Berlin are very active in water technologies research and the training of future water management professionals. Next to collaboration opportunities with partners from academia, industry and research, the German market offers a huge potential for U.S. water technologies and other companies.
In the beginning, the guests were warmly welcomed by German Consul General Hans Jörg Neumann, Stephen Cheung (World Trade Center Los Angeles), and moderator Angelika Geiger (GTAI San Francisco). A comprehensive market overview was presented by GTAI expert Annika Förster, who also highlighted business opportunities for U.S. companies in Germany. As head of chair "Environmental Process Engineering" at TU Berlin, Prof. Dr.-Ing. Sven-Uwe Geißen is at the forefront of innovative research in the water technologies sector. Next to the university's water-related activities and projects, he introduced networks of the German water sector and cooperation opportunities for German and U.S. companies. Afterwards, Jim Clark, Black & Veatch, shared his view on the German expertise in water technologies. During the networking sessions, the event facilitated a knowledge exchange between experts from both countries.
Our Partners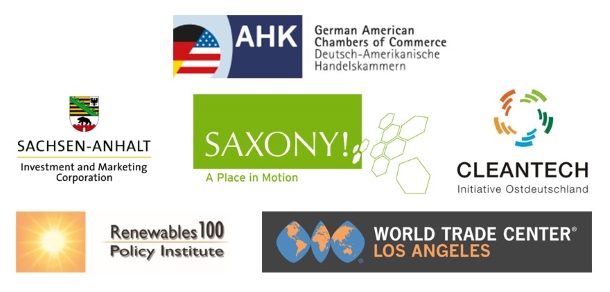 GTAI and it's Partners | © GTAI
Agenda
11:30AM

Registration & Networking

12:00PM

Welcome & Opening Words

Hans Jörg Neumann, Consul General of the Federal Republic of Germany, Los Angeles

Stephen Cheung, President, World Trade Center Los Angeles

12:30PM

Climate Change Impacts on the Urban Water Sector – Uncommon Business Opportunities

Annika Förster, Manager Energy, Building & Environmental Technologies, Germany Trade & Invest

12:50PM

Trends and Perspectives in Industrial Water Management

Prof. Dr.-Ing. Sven-Uwe Geißen, Head of Chair "Environmental Process Engineering", Technische Universität Berlin

01:10PM

The German Water Technologies Market from a U.S. Perspective

Jim Clark, Senior Vice President, Black & Veatch

01:30PM

Questions & Answers

01:40PM

Networking

Moderator: Angelika Geiger, Director, Germany Trade & Invest San Francisco
Picture Gallery