Event United States of America Structural Change
Event Review: German Cardiology Night
Networking Reception – Medical Technology Delegation from Germany
Event: Sep 24, 2018
Location: San Diego, United States of America
On September 24, 2018, Germany Trade & Invest (GTAI) in cooperation with Invest in Mecklenburg-Vorpommern and the German American Chamber of Commerce in San Francisco (GACC West) held an exclusive networking reception & panel discussion for US American potential investors and partners at the Diamond View Tower in San Diego. The event highlighted Germany's healthcare market and the research landscape in Eastern Germany, in particular in Mecklenburg-Vorpommern.
The guests were warmly welcomed by German Honorary Consul Stephan Hollmann, Silke Poppe (Director Eastern Germany, GTAI) and Kristian Wolf (CEO, GACC West). A comprehensive market overview was presented by GTAI expert Omar Oweiss (Director Washington DC), who also highlighted business opportunities for US companies in Germany. Michael Sturm (Managing Director of Invest in Mecklenburg-Vorpommern) complemented these arguments by pointing out further advantages this region in North-East Germany has to offer for potential investors. Dr. Matthias Gratz (Director for Innovation, IP and Portfolio Management Vascular Intervention at Biotronik AG) concluded with some insights into global medical device company Biotronik's presence in Mecklenburg-Vorpommern and how the company has benefited from the world-class infrastructure and highly motivated workforce in the region.
The highlight of the evening was the panel discussion on "Demographic Change & Aging Society". The panel comprised experts from the R&D hotspot Rostock (see agenda). The specific contributions of their respective work in relation to an aging society were evaluated, with a focus on topics like stents and valves. For instance, the benefits of artificial over human tissue and their latest research results in improving existing technologies related to cardiovascular medical devices were discussed. In this setting, Dr. med. Jens Ebnet, Founder and Managing Director of Ebnet Medical, presented his invention SWORDCATH, a system that greatly simplifies the insertion of catheters.
Our Partners
We would like to thank our partners: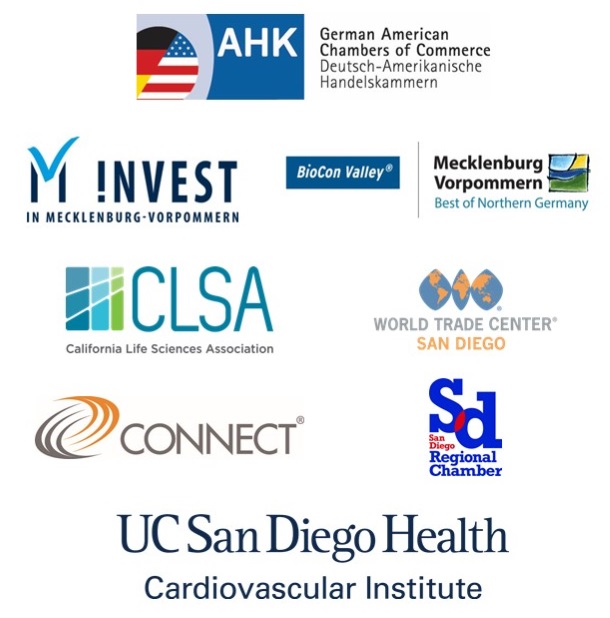 bild-partner-sandiego
Agenda
5:30PM

Registration, Networking

6:15PM

Welcome & Opening Words

Stephan Hollmann, Honorary Consul of the Federal Republic of Germany

Silke Poppe, Director Eastern Germany, Germany Trade & Invest

Kristian Wolf, CEO, Representative of German Business (GACC West)

6:30PM

German Medical Technology Landscape

Omar Oweiss, Director Washington D.C., Germany Trade & Invest

6:40PM

American Business Sense meets German Engineering Spirit

Michael Sturm, Managing Director, Invest in Mecklenburg-Vorpommern (MV)

6:50PM

Keynote

Dr. Matthias Gratz, Director Innovation, IP and Portfolio Management Vascular Intervention, Biotronik AG

7:10PM

Expert Panel Discussion

8:00PM

Conclusion & Networking

Master of Ceremonies: Omar Oweiss, Director Washington D.C., Germany Trade & Invest
Picture Gallery