Event China Structural Change
Event Review: Developments in the German ICT Industry
Opportunities for Chinese Investors in Eastern Germany
Event: May 16, 2019 Location: Shenzhen, China
As part of the Germany Trade & Invest (GTAI) China Road Show 2019, an investor event to promote and market Eastern Germany as an investment location for Chinese business representatives from the ICT sector took place in Shenzhen on May 16, 2019. Parliamentary State Secretary at the Federal Ministry for Economic Affairs and Energy (BMWi) Mr. Christian Hirte, accompanied the GTAI Road Show, holding a keynote speech on the merits of Eastern Germany as an economic location and the special location advantages of the new federal states.
Germany Trade & Invest CEO Dr. Robert Hermann outlined the array of services provided by GTAI in his subsequent presentation, taking time to outline further the advantages of Eastern Germany as a location – the five federal states and Berlin – to the attendant audience of 93 Chinese business representatives. The event also enjoyed the support of the German General Consulate in Guangzhou and the Shenzhen Municipal Government, with both General Consul Mr. Martin Fleischer and Deputy Mayor Mr. Lixin WANG making welcoming addresses.
Testimonial presentations detailing successful investments made by Chinese companies in Eastern Germany formed a key element in the event proceedings. Mr. Guobong Li of Hang Sheng Electronics and Mr. Yongxing Yang from Guangdong Biolight Meditech reported on their respective positive experiences in Eastern Germany.
As part of a panel discussion with the two Chinese company representatives and representatives from the economic development agencies Investment and Marketing Coporation Saxony-Anhalt, State Development Corporation of Thuringia and Berlin Partner for Business and Technology (represented by Berlin Business Liaison Desk China), additional regional advantages were discussed and substantiated by the on-hand expertise provided by GTAI ICT expert Mr. Henri Troillet. The Head of the Eastern Germany Division, Ms. Silke Poppe, moderated the discussion forum.
As well as those economic development agencies already noted, representatives of Invest in Mecklenburg-Vorpommern and the Saxony Economic Development Corporation also participated in the road show.
Chinese company representatives in attendance made excellent use of the opportunity to network with the German experts and representatives from the respective economic development agencies before and after the event.
Our Partners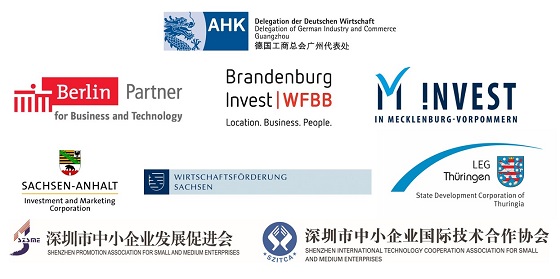 bild-partner-shenzhen | © GTAI
Agenda
03:00PM

Registration & Networking

03:30PM

Welcome & Opening Words

Martin Fleischer, Consul General of the Federal Republic of Germany, Guangzhou

Lixin WANG, Deputy Mayor of Shenzhen

03:50PM

Eastern Germany as a Business and Investment Location

Christian Hirte, Parliamentary State Secretary and Federal Government Commissioner for the New Federal States at the Federal Ministry for Economic Affairs and Energy

04:10PM

Introduction and Overview Germany Trade & Invest and its Partners

Dr. Robert Hermann, CEO, Germany Trade & Invest

04:30PM

Coffee Break & Networking

04:50PM

Germany's Thriving ICT Landscape: Best Way to Profit from the Market

Henri Troillet, Senior Manager Digital & Service Industries, Germany Trade & Invest

05:00PM

Learn from Germany

Guobing Li, Vice President, Hang Sheng Electronics Co., Ltd.

05:10PM

Integrating with "Made in Germany": Enjoying a Strong Reputation Worldwide

Yongxing Yang, Vice President, Guangdong Biolight Meditech Co., Ltd.

05:20PM

Panel Discussion

Participants:

Guobing Li (Hang Sheng Electronics), Yongxing Yang (Biolight Meditech Co., Ltd.), Henri Troillet (GTAI), Sabine Yang-Schmidt (Berlin Business Liaison Desk China), Mathias Obieglo (Investment and Marketing Corporation Saxony-Anhalt), Hao Zhi (State Development Corporation of Thuringia)

Moderation: Silke Poppe, Director Eastern Germany, GTAI

06:00PM

Q&A

06:15PM

Networking with Dinner Buffet

Master of Ceremonies: Robert Herzner, Director China, Germany Trade & Invest
Picture Gallery