Event Germany Structural Change
Event Review: Pre-BIO-Europe Tour 2019
Biotechnology Innovation Clusters in Germany
Event: Nov 06, 2019 - Nov 10, 2019 Location: Berlin, Halle, Leipzig, Dresden, Germany
Prior to BIO-Europe, 19 representatives of biotechnology companies and clusters from Japan followed the invitation by Germany Trade & Invest (GTAI) and HEALTH MADE IN GERMANY – kindly supported by the Japan Bioindustry Association – to learn more about the German biotechnology industry. A special focus was placed on biotech clusters in Eastern Germany.
From November 6-9, the program of the "Pre-BIO-Europe Tour" included technical briefings, visits of clusters, research institutions and local companies, as well as various networking events.
On Wednesday evening, a briefing on medical biotechnology in Germany at GTAI's Berlin office marked the start of the tour. At the subsequent dinner, Christian Hirte, the Federal Government Commissioner for the New German States, officially welcomed the delegation.
Thursday (November 7) started with a meeting with Gabriele Katzmarek, member of the German Bundestag. This was followed by a networking lunch at the Japanese Embassy with guests from business, industry associations and clusters from Germany and Japan. In the afternoon, a visit to the BiotechPark Berlin-Buch took place, where the exchange with local companies and research institutions was also the focus of attention, and the Leibniz Research Institute for Molecular Pharmacology was visited. In the evening, the BioCon Valley cluster introduced the Japanese participants to the life sciences industry in Mecklenburg-Vorpommern.
On Friday, the delegation visited the Weinberg Campus in Halle (Saale) – including a guided tour of the campus and the company Icon Genetics as well as B2B talks. In Leipzig, the participants were welcomed by Uwe Albrecht, the city's Deputy Mayor for Economic Affairs and Labor, and visited the Fraunhofer IZI before the day ended with a German-Japanese networking event.
At the tour's final stop, Dresden, the delegation was also able to make direct contact with Saxon companies. In addition, the group visited the Max Planck Institute for Molecular Cell Biology and Genetics before a guided tour through the historic old town concluded the tour.
On Sunday, the majority of the delegation travelled on to Hamburg for the BIO Europe conference. There, the joint booth of GTAI and HEALTH MADE IN GERMANY formed a central point of contact for the delegation.
Our Partners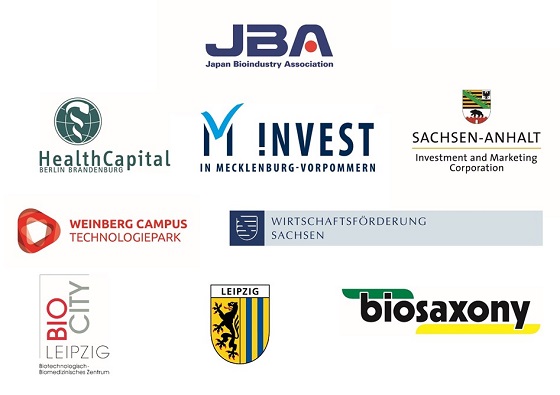 bild-partner-pre-bio-europe | © GTAI
Agenda
Wednesday,
NOV 6

BERLIN

Welcome & briefing on the German biotechnology market
Get-together dinner with a welcome by Christian Hirte,
Parliamentary State Secretary at the Federal Ministry for Economic Affairs and Energy, Federal Government Commissioner for the New Federal States

Thursday,

NOV 7

BERLIN

Welcome by Gabriele Katzmarek, Member of the German Bundestag, and visit of the dome of the Reichstag
German-Japanese Networking Lunch

Visit of Berlin-Buch Biotech Park

- Welcome and introduction to Campus Berlin-Buch
- Company pitches and networking
- Campus tour & visit of the Screening Unit (Leibniz-Forschungsinstitut für Molekulare Pharmakologie)

Evening event "Biotechnology in Mecklenburg-Vorpommern"

Friday,
NOV 8

HALLE

Visit of Weinberg Campus Technology Park, Halle (Saale)

- Welcome and introductory presentations
- Campus tour and company visit at Icon Genetics GmbH
- Business-Lunch/Networking

LEIPZIG

Visit of Leipzig City Hall and welcome by Uwe Albrecht, Leipzig's Deputy Mayor for Economic Affairs and Labor
Visit of the Fraunhofer Institute for Cell Therapy and Immunology IZI
Get-together

Saturday,

NOV 9

DRESDEN

Welcome, company pitches and networking
Visit and guided tour of the Max Planck Institute of Molecular Cell Biology and Genetics
Walking tour of Dresden's historic city center

Sunday,

NOV 10

DRESDEN

Individual transfer to Hamburg
Picture Gallery