Event Japan Structural Change
Event Review: Reinventing the Automobile – Autonomous Driving in Germany
14th Japan-Germany Industry Forum
Event: Nov 08, 2018 Location: Tokyo, Japan
On Thursday, November 8, 2018, Germany Trade & Invest held the 14th Japan-Germany Industry Forum (JGIF 2018) in Tokyo.
This year's JGIF focused on Germany's internationally leading automotive sector and the opportunities available to Japanese investors. Particular attention was paid to the potential opportunities available to Japanese suppliers in Germany. Japanese companies enjoy an innovative international position, particularly in the field of automation, and are greatly interested in the opportunities that the German automotive market has to offer them.
Presentations outlined the general framework conditions for investment in Germany, and German and Japanese companies outlined their current and planned activities in the German automotive market.
After these presentations, the "German Business Lounge" provided an opportunity to establish, maintain and intensify personal contacts to industry experts as well as speakers.
A mini-fair of representatives from the German federal states gave participants the opportunity to meet representatives of Baden-Wurttemberg, Bavaria, Brandenburg, Hessen, Lower Saxony, North Rhine-Westphalia, Saxony, Saxony-Anhalt, and Thuringia as well as the German National Tourist Board, and to learn more about the latest developments in these regions.
More than 250 attendees from industry, research, and politics participated and joined this exclusive event in Tokyo.
Our Partners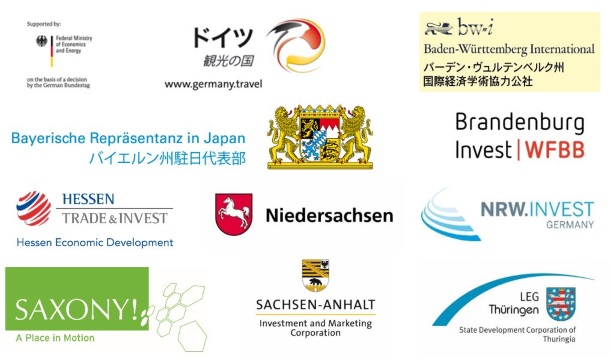 bild-partner-jgif2018 | © GTAI
Agenda
1:00PM

Registration, Networking & Mini Trade Fair

01:30PM

Opening Remarks and Introduction - Germany Trade and Invest

Dr. Robert Hermann, CEO, Germany Trade & Invest

Iwami Asakawa, Japan Representative, Germany Trade & Invest

01:50PM

Welcome Address

Naomi Namatame, Director for Automotive International Trade Policy, Automotive Division, Manufacturing Industries Bureau, Ministry of Economy, Trade and Industry

02:00PM

Keynote: Automated Driving Technologies & Partnerships Made by Germany for the World

Dr. Bernhard Morys, Senior Manager Highly Automated Driving, Daimler Greater China Ltd.

02:30PM

The German Economy and Japanese Investment Trends

Ryuichi Nishizawa, Managing Director, Planning Department, Europe, Middle East and Africa Division, Frankfurt Sumitomo Mitsui Banking Corporation

02:55PM

Coffee Break

Mini fair of represantatives from German federal states

03:25PM

How to get started - Legal Framework and Business Opportunities in Germany

Christina Schön, Senior Manager Tax & Legal Services, Germany Trade & Invest

Stefan Di Bitonto, Senior Manager Transportation Technologies, Germany Trade & Invest

03:50PM

Fuel Cell Vehicle Development and Toward Hydrogen Society Including "CASE" activities

Takashi Moriya, Senior Chief Engineer, Technology Development Div.5, HONDA R&D Co., Ltd.

04:15PM

Connected Vehicle Architectures – Enabler of Automated Driving and Future Mobility Services

Dr.-Ing. Stefan König, Senior Vice President Architecture & Integration, IAV GmbH Ingenieurgesellschaft Auto und Verkehr

04:40PM

Coffee Break

Mini fair of representatives from German federal states

05:10PM

The Path to an Autonomous World

Oliver Marc Schaetzle, Senior Manager, Director Sales, Southeast Asia, HERE Technologies

05:35PM

Next Generation Mobility Service

Tani Naoki, Senior Vice President, Managing Director, IoT Business Department, Corporate Sales and Marketing Division, NTT DOCOMO, INC.

06:00PM

Closing Remarks

Iwami Aasakawa, Japan Representative, Germany Trade & Invest

06:15PM

German Business Lounge

Reception

Mini fair of represantatives from the German federal states

08:00PM

Conference Conclusion

Master of Ceremonies: Iwami Aasakawa, Japan Representative, Germany Trade & Invest
Picture Gallery