Interview with Peggy Görlitz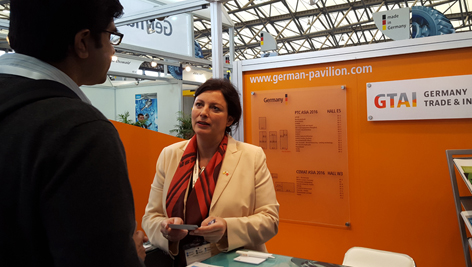 Peggy Görlitz, Senior Manager GTAI at the German Pavilion @ PTC Asia International Trade Show for Power Transmission and Control | © GTAI
Peggy Görlitz has been working for Germany Trade & Invest (GTAI) for around 12 years and supports foreign investors, and other stakeholders in the plastics industry.






What part of your job do you like most?
There is a lot I like about my work. The most beautiful feeling is when I stand with the local mayor at the industrial site that the foreign investor has chosen for his new manufacturing facility. We talk about what will be where and how it will look. This fills me with pride, because I have met the goal of my work as a GTAI employee and can hand over the project and rest of the settlement process to the economic development agency of the respective state and its local partners....