The Pharmaceutical Industry in Germany
Combining cutting edge-innovation, a long tradition as the "world´s pharmacy" and continuously growing demand for healthcare products, Germany is the ideal location for pharmaceutical R&D, production, and sales of medicines.
Driven by trends such as demographic change, a rise in chronic diseases and an increasing emphasis on prevention and self-medication, Europe's biggest pharmaceutical market is growing faster than the German economy. Germany belongs to the world's leading clinical trials locations and - based on R&D investment and patent application levels - is the leading pharmaceutical innovation location in Europe.
The country is the second largest exporter of medicinal products and ranks among the top pharmaceutical producers worldwide. In light of the global need for personalized medicine, Germany has also evolved into one of the main suppliers of novel biopharmaceuticals.
Located in the heart of Europe and benefiting from excellent infrastructure and a highly skilled workforce, Germany offers attractive opportunities and a favorable investment climate for pharmaceutical companies planning to expand internationally.
Germany's pharmaceutical industry in numbers
Germany constitutes the major European pharmaceutical market and the fourth largest worldwide.
In 2020, pharmaceutical industry sales in Germany increased by 6.7 percent, reaching EUR 49.5 billion (ex-manufacturer prices)
Approximately 550 pharmaceutical companies are located in Germany. SMEs constitute the backbone of the economic sector, with around 91 percent of drug manufacturers having less than 500 employees. Overall, the German pharmaceutical industry has a workforce of 143,000 people (2020).
Germany generated production value of EUR 32.4 billion in 2020, making it one of the leading pharmaceutical manufacturing locations in the EU.
In 2020, the pharmaceutical industry in Germany invested almost EUR 7.7 billion in R&D. The sector shows the highest research intensity across all major German industries – about 14.4 percent of revenues were reinvested in R&D in 2020.
Top 10 of the most important indications (ATC-3) on the statutory health insurance market in terms of sales (2016)

Indication areas (ATC-3)

EURO
in mil.

% vs. previous year

% share of total sales

% share of total quantity

Total

38,676.60

3.13

100.00

100.00

L04B Anti-TNF products

2,127.5

8.15

5.50

0.07

N07A Multiple sclerosis Product

1,730.90

- 0.91

4.48

0.08

A10C Human insulin and analogues

1.394.70

1.15

3.61

1.76

L01H Antineoplastic protein kinase inhibitors

1,385.20

15.61

3.58

0.04

B01F Direct factor-Xa inhibitors

1,070.90

32.09

2.77

0.65

N02A Analgesics, Anaesthetic agents

1.061,70

3.18

2.75

1.18

J05B Virostatic agents, not for HIV

961.80

- 35.71

2.49

0.16

J05C Virostatic agents for HIV

961.50

3.68

2.49

0.09

L04X Other immunosuppressants

899.00

11.90

2.32

0.24

T02D Diabetes tests

833.50

- 1.97

2.15

3.66
Source: BPI 2017
Pharmaceutical market opportunities in Germany: Over-the-counter (OTC) market
Over-the-Counter (OTC) On average, revenues in the German OTC market increased by 3.3 percent per year between 2015 and 2020, exceeding EUR 10.7 billion in 2020. Around EUR 7.0 billion was generated in the non-prescription drugs segment and almost EUR 3.8 billion with health products.
Non-prescription drugs include pharmacy-only drugs as well as OTC drugs that may also be sold outside of pharmacies. Product groups that are not subject to pharmaceutical legislation - for example, food supplements – belong to the health products segment and can be sold by pharmacies as well as in the mass market (e.g. drugstores and supermarkets).
Traditional brick-and-mortar pharmacies enjoy a high level of trust among the German population and represent the main distribution channel for OTC products, followed by mail-order pharmacies and the mass market.
Remedies for the respiratory system, analgesics and products for the digestive system account for the highest share of OTC sales via pharmacies (including mail order). Although self-medication represents the major part of revenue, OTC products may also be prescribed and reimbursed by health insurance companies.
Market opportunities: biopharmaceuticals
The development of biological drugs has led to substantial shifts in the pharmaceutical industry landscape in recent years. Large companies have moved their focus from small molecule drugs towards the development and production of complex biological compounds that are made with the help of a variety of organisms.
Because of their high therapeutic potential, biologics have taken up a considerable share of the pharmaceutical market in Germany: From 2015 to 2020, the biologics market grew by 12.2 percent on average annually – more than twice the growth of the overall pharma market. The total revenue of biopharmaceuticals in Germany is EUR 14.6 billion (2020), equivalent to more than a quarter of the market for pharmaceuticals.
Market opportunities: Pharma production location Germany
Germany is one of the world's top pharmaceutical production locations. In 2020, pharmaceutical production volume reached EUR 32.4 billion – equivalent to 3.9 percent year-on-year growth.
Together with France and Italy, Germany belongs to the biggest pharmaceutical manufacturing locations within the European Union.
44 different biopharmaceuticals that are approved in the EU are produced in Germany – this is the second highest figure worldwide after the USA. Three important factors contributing to this excellent position are the high-performing industrial infrastructure, the long-standing strength of the local chemical industry, and a highly qualified workforce.
Research and development
Germany provides the perfect environment for the development and production of research-intensive, high-grade products.
In 2020, the pharmaceutical industry in Germany invested almost EUR 7.7 billion in R&D – more than in any other European country. The German pharmaceutical sector shows the highest research intensity across all major German industries – about 14.4 percent of revenues were reinvested in R&D in 2020.
With 542 clinical trials financed by research-based pharmaceutical companies in 2020, Germany ranks fourth worldwide. Based on the number of patent applications, the country is leading in pharmaceutical innovation in Europe. In 2020, some 631 patents were registered with the European Patent Office by the pharmaceutical industry in Germany.
Over 30 biotechnology clusters bundle scientific expertise at a regional level and connect academic and industrial players in the field of drug development, thereby contributing substantially to the advancement of pharmaceutical innovation and creating an innovation ecosystem that enjoys global acclaim.
Latest Publications
Fact Sheet - The Food Supplements Market in Germany, 2021/2022
Germany's food supplements market is a billion-dollar industry, with one in three Germans regularly taking food supplements to improve their health and well-being.
Industry Overview - The Pharmaceutical Industry in Germany
Europe's largest pharmaceutical market offers the perfect location for pharmaceutical R&D, production, and sales of medicines.
References
Dr. Hagen Pfundner, CEO Roche Pharma AG and Managing Director Roche Deutschland Holding GmbH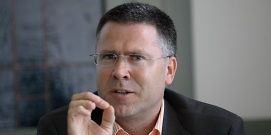 Dr. Hagen Pfundner, CEO Roche Pharma AG and Managing Director Roche Deutschland Holding GmbH | © Roche Deutschland Holding GmbH
"The availability of a highly trained labor force, a secure legal framework, the company's own long tradition in Germany, and a proven record in biopharmaceutical production were determining factors for the site expansion."
Industry Associations
The pharmaceutical industry is represented by several associations:
German Association of Research-based Pharmaceutical Companies (vfa): The vfa represents the interests of 44 global leaders in research-based pharmaceutical companies and more than 100 subsidiaries and affiliated companies in healthcare, research, and economic policy.
German Association for the Pharmaceutical Industry (BPI): The BPI represents approx. 240 companies. This includes traditional pharmaceutical companies, pharmaceutical service providers, and companies in the fields of biotechnology, herbal medicine and homeopathy/anthroposophy.
German Association of Pharmaceutical Producers (BAH): With more than 450 members, the BAH has the most members among the pharmaceutical industry associations in Germany. Its members are primarily pharmaceutical producers, but also pharmacists, lawyers, publishers, agencies, as well as market and opinion research institutes in the healthcare field.
Pro Generika: Pro Generika is the association of companies that manufacture generic and biosimilar products in Germany. Pro Generika has 16 member companies in Germany. Companies manufacturing generic and biosimilar products together cover over 75 percent of the medicinal drugs required by the statutory health insurance funds.