Markets Germany 1/21 - LET'S CARRY ON
As cases of Covid-19 surged again across the world last fall, German authorities took quick action to limit infection numbers. The measures were typical of Germany's response to the unprecedented situation: attempting to balance economic concerns with necessary and timely health interventions.
Feb 01, 2021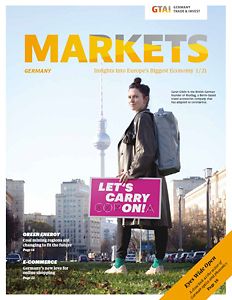 Cover Markets Germany 1/21 | © GTAI/KammanRossi
The title of this edition of Markets Germany, "Let's Carry On," may have a slightly British ring to it. That's entirely intentional. The Federal Republic of Germany has learned many lessons from its friends and partners over the years. History buffs might characterize the German approach to the coronavirus as showing a mixture of "Anglo" pragmatism, determination and cool, and "Saxon" know-how, togetherness and rationalism.
That attitude of rational pragmatism was very much on display as the second wave of the pandemic hit the globe last fall, but it also only imposed restrictions as they became absolutely necessary and offered unprecedented state aid to those sectors and businesses forced to close temporarily.
But what happened from the top down is only half the story. Equally crucial is the creativity and spirit shown on the ground by businesses in Germany in adapting to the demands of the corona world. That's why this issue also focuses on six examples of companies that have succeeded in carrying on through it. One of them, the British-German designer and entrepreneur Sarah Giblin, graces our cover.
Subscription
This publication can also be ordered as a printed issue subscription.