Facts & Figures China
Mergers and Acquisitions in China and Germany
M&A Guide from the Sino-German Legal Commission released to the public
Sep 17, 2015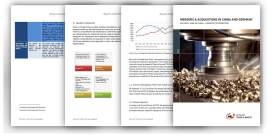 MERGERS & ACQUISITIONS IN CHINA AND GERMANY VOLUME I: M&A IN CHINA – CHINESE CONTRIBUTION | © GTAI
The twin-volume handbook "Mergers and Acquisitions in China and Germany is now available.
The manual, produced by the Sino-German legal commission under the auspices of the German Ministry for Economic Affairs and Energy and the Chinese Ministry of Commerce, provides German and Chinese companies with practical advice for the planning and performance of acquiring a company in the respective other country.
The first volume of the M&A guide (M&A in China) informs German investors about the legalities and practicalities of M&A transactions in China. In the second volume, Chinese investors can find a detailed description of the legal, economic and practical investment conditions in Germany.
Both volumes are in English, and the second volume will also be translated into Chinese.
Mergers and Acquisitions in China and Germany: 


For further information:
Julia Merle
Tel.: +49 (0) 228/24993-432,
Internet: www.gtai.de/recht
GTAI Recht is now also on Twitter
On @GTAI_Recht you can follow international legal developments. Our new twitter account @GTAI_Recht has been active since September 30, 2014. In the future there will be tweets on all legal aspects of foreign business.