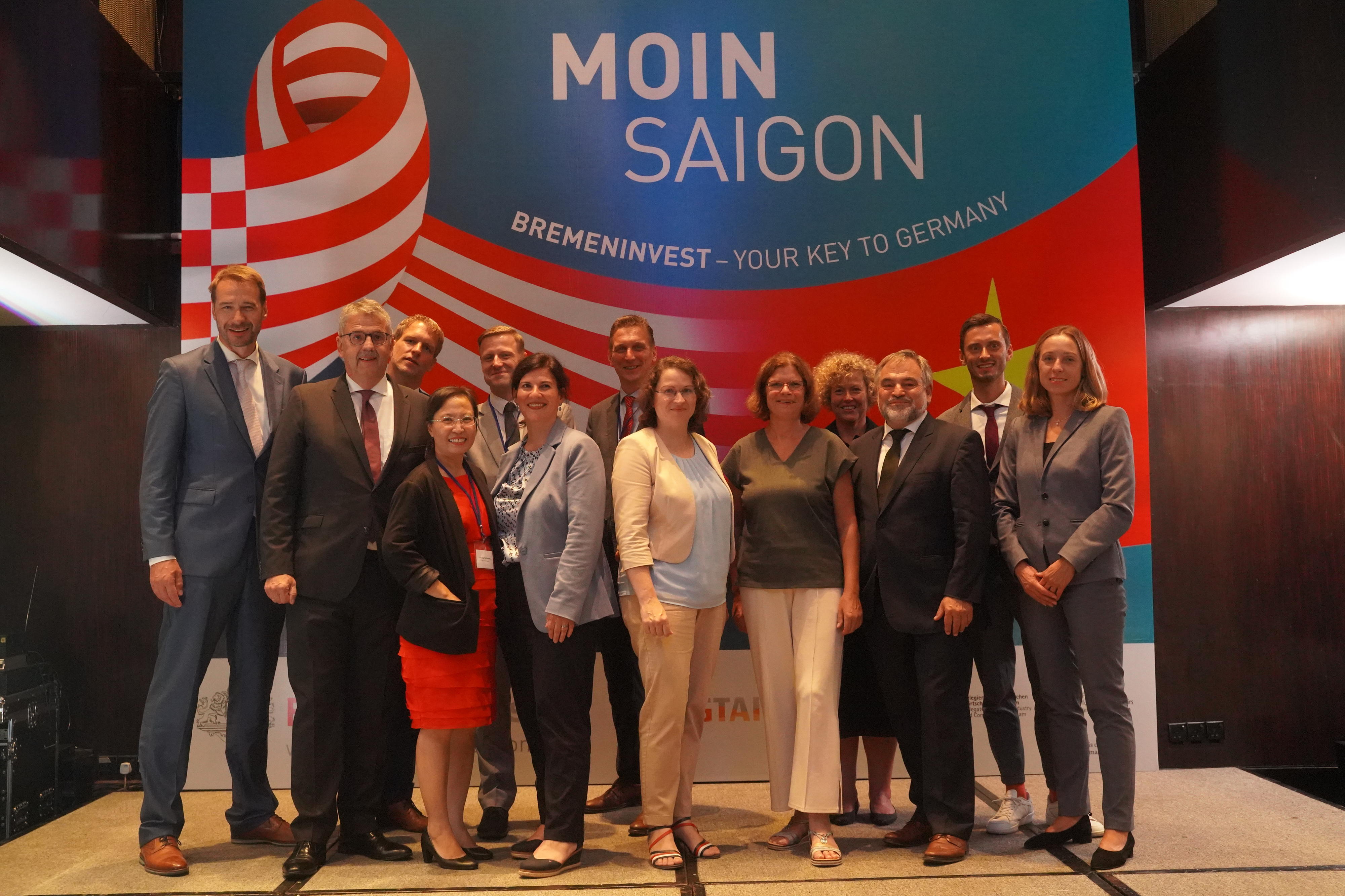 Andreas Gerber, Wirtschaftsförderung Bremen GmbH (WFB) | Andreas Heyer, Geschäftsführer, WFB | Peter Buerstedde, GTAI | Hoang Thi Huong, WFB | Björn Koslowski, stellv. Delegierter der Deutschen Wirtschaft in Vietnam | Sandra Moser, GTAI | Christian Gutschmidt, SWEA | Tina Spicher, stellvertretende Konsulin, Deutsches Generalkonsulat HCMC | Kristina Vogt, Senatorin für Wirtschaft, Arbeit und Europa der Freien Hansestadt Bremen (SWEA) | Dr. Helga Beste-Di Benedetto, Hochschule Bremerhaven | Hans-Georg Tschupke, SWEA | Kolja Umland, WFB | Christina Schön, GTAI | © Ressort Wirtschaft, Arbeit und Europa, Bremen
Event Viet Nam Structural Change
Review: Moin Vietnam: Investors Tour for Vietnamese Companies
As part of the program for the internationalization of regions in structural transformation, Germany Trade & Invest – in cooperation with Bremeninvest – hosted two investor events concerning market entry opportunities in Germany for vietnamese companies.
Event: Aug 22, 2022 - Aug 24, 2022
Location: Hanoi & Ho Chi Minh City, Viet Nam
Moin Hanoi và Moin Saigon
Với câu chào này, hơn 150 khách đã đến tham dự sự kiện dành cho nhà đầu tư do Cục xúc tiến Thương mại và Đầu tư Đức "Germany Trade & Invest" và Cơ quan Phát triển Kinh tế bang Bremen "Bremeninvest" tổ chức vào ngày 22 và 24.08.2022 tại Hà Nội và TP. Hồ Chí Minh. Cảm ơn các bạn đã tham dự sự kiện và quan tâm đến chương trình đầu tư tại nước Đức nói chung và bang Bremen nói riêng. Các bài trình bày tại sự kiện có thể tải về theo các đường link dưới đây.
Nếu bạn có bất kỳ câu hỏi nào, đừng ngần ngại liên hệ với các diễn giả. Chúng tôi mong muốn được hỗ trợ bạn và các dự án đầu tư của bạn. Team Germany Trade & Invest và Bremeninvest.
Under the motto "Moin Hanoi" and "Moin Saigon", more than 150 participants were provided with comprehensive and up-to-date information on business opportunities in Germany with specific focus on Bremen. The event boasted an attractive line-up of speakers with presentations by BremenInvest, HANSE Kitchen Bremen and Germany Trade & Invest as well as a welcome address by Kristina Vogt, Bremen's Senator of Economic Affairs, Labour and Europe.
Following the two investor events in Hanoi and Saigon, networking events with the senator, the participants of the investment promotion agencies of Bremen (Bremeninvest) and Germany (Germany Trade & Invest) took place.
We have gathered for you the presentations held by Bremeninvest, HANSE Kitchen Bremen and Germany Trade & Invest. Please do not hesitate to contact us or the individual speakers.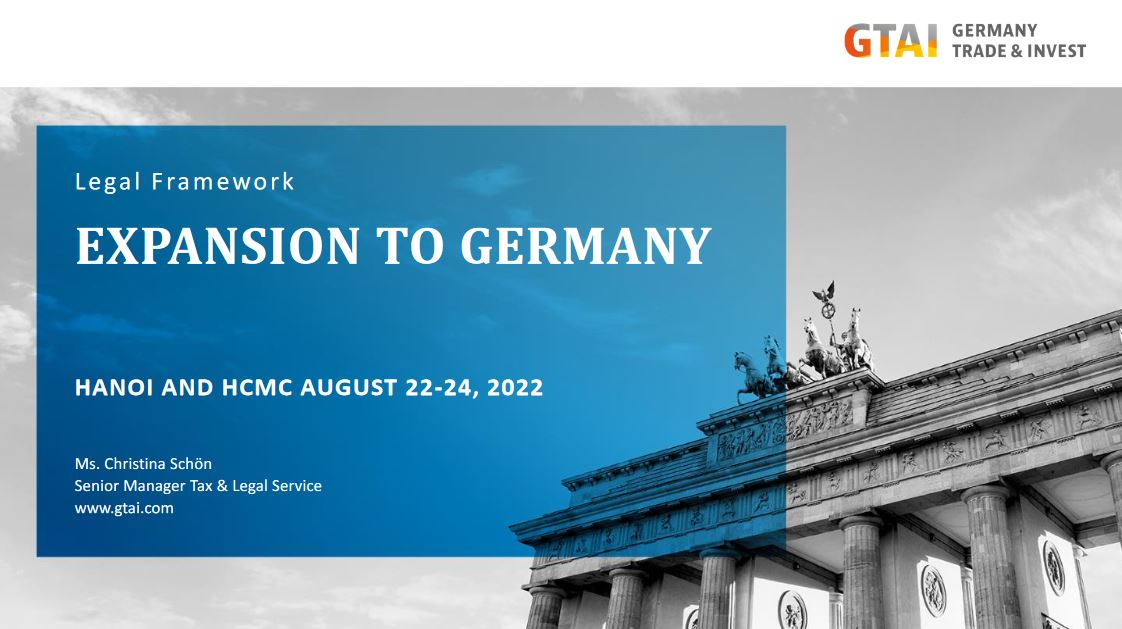 Webinar Review: Teaserpic: Expansion to Germany | Christina Schön | GTAI | © GTAI
Christina Schön
Senior Manager Tax & Legal Service
Germany Trade & Invest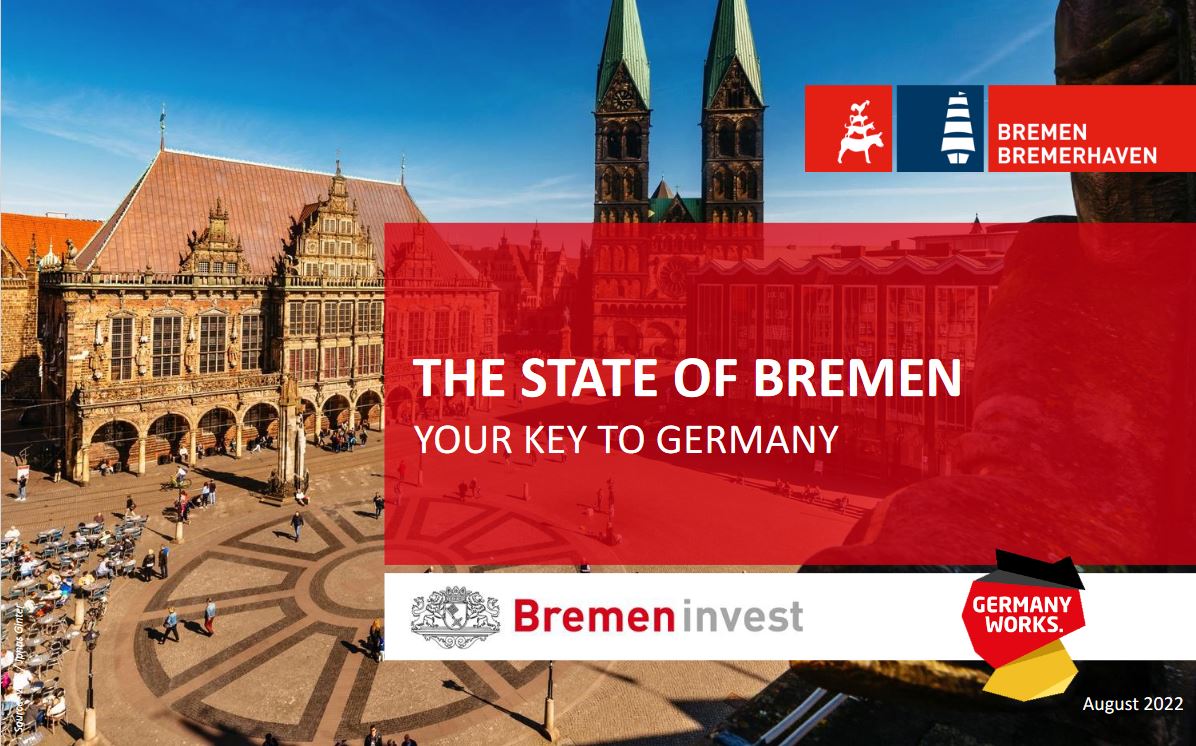 Webinar Review: Teaserpic: The State of Bremen: Your Key to Germany | Andreas Gerber | Team Leader BremenInvest | © WFB Wirtschaftsförderung Bremen GmbH
Andreas Gerber
Director International Business
Bremeninvest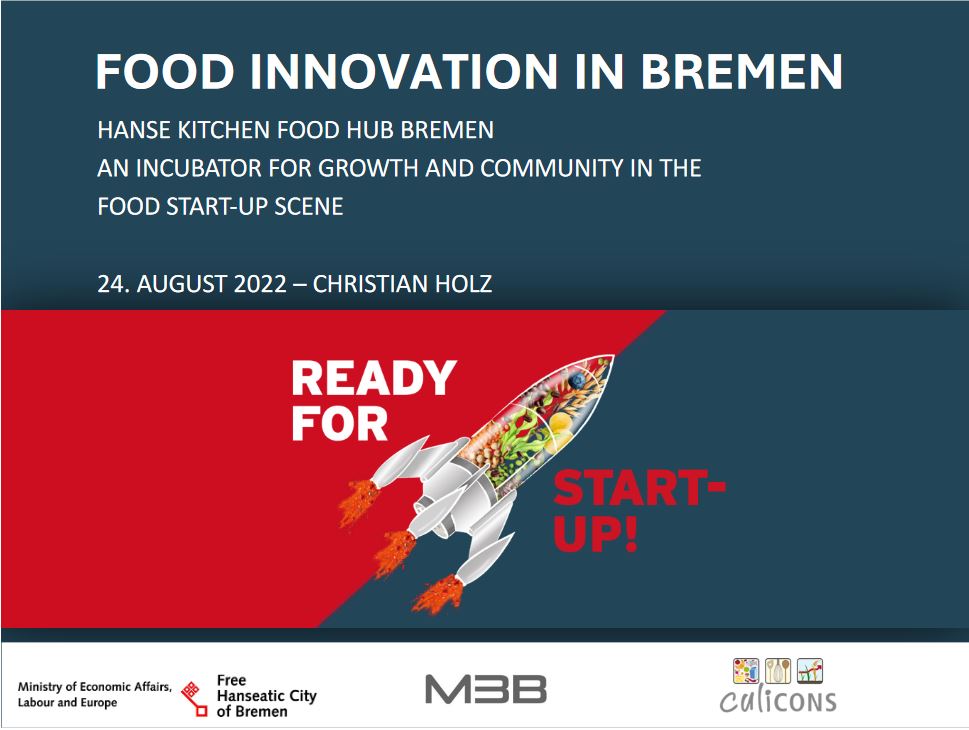 Webinar Review: Teaserpic: Food Innovation in Bremen | Christian Holz | culicons | © culicons
Christian Holz
Project Leader
HANSE KITCHEN Food Hub Bremen










GTAI Investor Event
The investor event provides insights into the current developments of a focus industry in Germany and outlines options on how best to expand your business activities to Europe's largest market. Benefit from exclusive information on areas that offer particularly attractive points of contact and get to know the ecosystem of a specific region. Companies that have already successfully established themselves in the region will also report on their experiences in the German market.

Partnerlogos GTAI + Germany Works. + BremenInvest | © GTAI/BremenInvest