Markets Germany 1/23 - UNLOCKING GERMANY'S HIDDEN HIGHLIGHTS
There are fabulous business locations in surprising places dotted all over Europe's largest economy. The trick is finding them - and Germany Trade & Invest holds the key.
Feb 01, 2023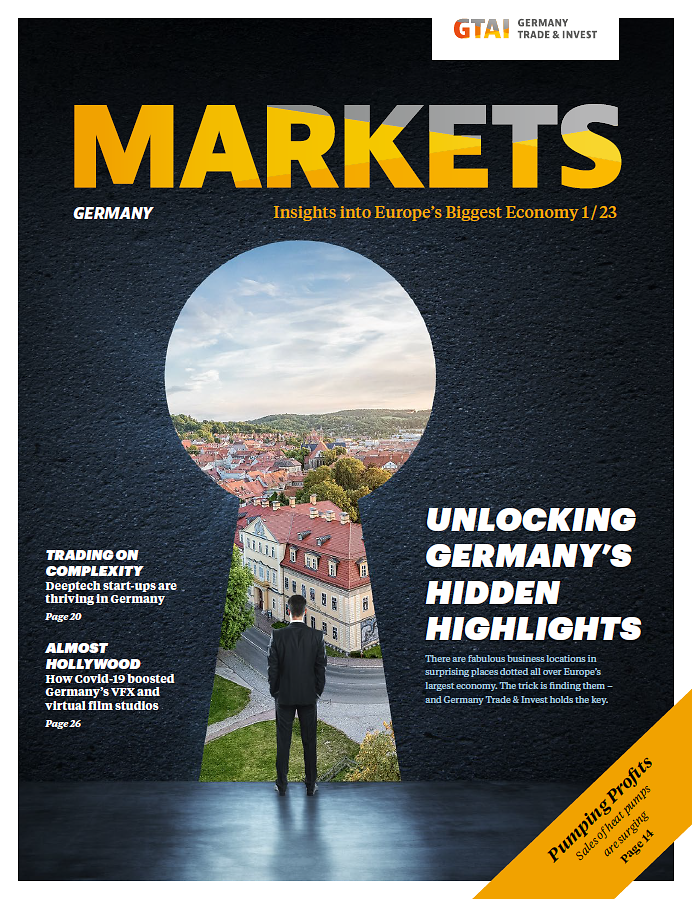 Cover Markets Germany 1/23 | © GTAI/KammanRossi
As many of you might know, Germany is a more decentralized country than most of its European neighbors. That means clusters of excellence and pockets of potential are distributed a bit more evenly. Many business locations that aren't household names abroad have a tremendous amount to offer international companies expanding to Germany.
Intel, for instance, found one such place in the eastern city of Magdeburg last year for its huge new production facility. So in this issue of Markets Germany we're delighted to take you on a tour of some other hotspots waiting to be discovered.That's one of the main things we do here at Germany Trade & Invest: help businesses from abroad find their ideal locations.
One sector that's red hot wherever you go in Germany is heat pumps. Concerns about heating prices and reliability have led to a veritable run on the market and created lots of space for new players. Even The New York Times noted the trend in a major article in December 2022 on the industry. But this February issue also contains some escapism in the form of an in-depth look at the new film industry.
Germany's generous film subsidies and major studios like Babelsberg are familiar to those in the movie biz, but the cinematic action doesn't stop there. Partly because of coronavirus restrictions, demand has risen incrementally for virtual studios and all sorts of state-of-the-art visual effects trickery. Thus, we hope you'll find this issue both entertaining and informative.
Subscription
This publication can also be ordered as a printed issue subscription.